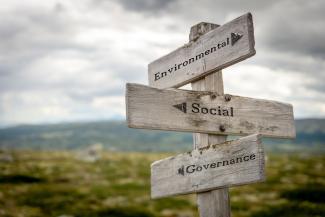 ESG – Investing For Impact
In recent years, the terms "Environmental, social, governance investing" (ESG) and "Sustainable" investing have become increasingly popular as more and more investors explore these strategies in an effort to optimize the impact of their investments. So much so that a 2020 US SIF Foundation trends report noted U.S. assets under management using ESG strategies grew to $17.1 trillion at the beginning of 2020 — a 42% increase since the beginning of 2018.
So, What Exactly Is ESG and Why Is It Trending?
ESG is used to describe a class of investments that have the potential to offer both positive financial returns for the investor as well as a positive long-term impact on the environment, social issues, and/or the performance of the company or business invested in.
While ESG investing was already gaining traction over the past decade, the COVID-19 pandemic has made individuals much more aware of and interested in supporting social issues such as employee health and safety. As a result, ESG has continued to grow in popularity.
Are ESG Investments "Better" Than Those in Another Class?
Evaluating investments is subjective to an individual investor's short- and long-term goals. However, it is important to note that many experts believe ESG investments carry less risk and offer comparable returns as traditional funds. And, the recent COVID-19 pandemic demonstrated that companies with particular focus on ESG issues may be less volatile during times of crisis.
How Can ESG Investing Support a Life Well Balanced?
As investors become more concerned with putting their dollars to good use - not just for themselves and their families, but for their broader community - ESG offers a unique opportunity to allocate assets in a way that aligns with both an individual's unique goals and desire for competitive returns. You can make sound investment decisions that support and reinforce personal, family, and business values without compromising performance.
Interested in Learning More?
Our Entrust Wealth Partners team is well-versed in supporting clients interested in ESG investing. If you'd like to discuss options for incorporating sustainable investment strategies into your wealth management plan, please contact your personal advisor.
---
Environmental Social Governance (ESG) investing has certain risks based on the fact that the criteria excludes securities of certain issuers for non-financial reasons and, therefore, investors may forgo some market opportunities and the universe of investments available will be smaller.