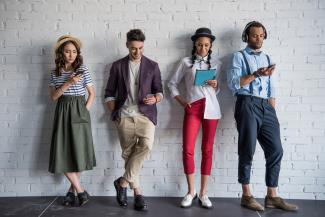 Millennials & Money – What You Need To Know
When you hear the word "Millennial", what comes to mind first? Tech-savvy? Career-focused? The "me" generation?
What about "financially responsible"?
According to recent studies, Millennials might be the most wealth savvy generation in recent history. One study by RBC Wealth Management found that Millennials, defined as being born between 1981 – 1996, are doing more to actively preserve and grow family wealth than past generations.
A few highlights from the study:
Millennials start their focus on finances around age 20 — a full 12 years earlier than their Baby Boomer parents did
Over 80% of Millennials survey respondents said that they feel a responsibility to own and manage their own finances

Of those surveyed, 69% say they regularly do their own research to learn about wealth and money (more than any other age group)
At the same time, only 53% seek out knowledgeable professionals to learn about wealth and only 51% seek support and guidance from their family when receiving an inheritance

Among Millennials surveyed, 38% of respondents already have a full wealth transfer plan in place (compared with only 26 percent of overall respondents)
In addition to being considered independent researchers when it comes to managing their wealth, Millennials have demonstrated a smaller appetite for risk while having a greater interest in ESG (Environmental, social, governance investing — also known as Sustainable Investing) than prior generations. Money is only one of their concerns, with other priorities such as the environment and ethically-sound investments high on their list.
This is important news as Millennials are expected to assume control of over $20T in global assets by 2030 and another estimated $30T by 2050, passed down by the Baby Boomer generation. If you haven't already begun conversations with Millennial-aged children or grandchildren, now may be the time to start. As always, our Entrust team is happy to help. If you'd like support facilitating conversations with your family, please contact your advisor for more details.
---
Sources: