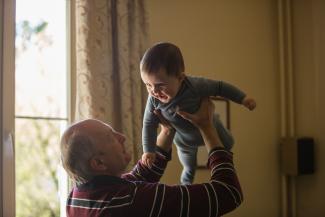 Tips To Ensure Successful Generational Wealth Transfer
It is estimated that up to 70% of generational wealth transfers fail - meaning, involuntary loss of control of the family's assets. 
Yes, 70%...
According to a study conducted by Brown Brothers Harriman, the key reason for this failure is communication - or, lack thereof. 
And, while we've highlighted key conversations to have with future generations in a previous post, we wanted to follow-up with some new and interesting information from a recent Capital Group Investor study that underscores the importance of adequately preparing your family to assume wealth responsibilities.
As evidenced in the chart below, there is an overwhelming disconnect between how Boomer and Gen X generations are prepared to manage, protect, and grow their financial assets versus their children and grandchildren.  
SOURCE: CAPITAL GROUP INVESTOR GENERATIONAL WEALTH TRANSFER STUDY, FEBRUARY 2020.
So, what can you do to bridge this gap? Below are actionable steps you can take to increase family communication, establish shared values, and implement a plan that prepares all generations to assume, manage, and grow the family legacy.  
Hold regular family wealth briefings
To get to the root of the issue that causes most generational wealth transfers to fail, you need to communicate early and often. Holding periodic family wealth briefings can help encourage more transparent and effective communication by establishing a dedicated time and space for family members to show up prepared to have a constructive conversation. This also helps family members feel included - not only in the details, but in the bigger picture of family values and future vision.
At the start, these conversations can be difficult to initiate and may create conflict or confusion. To ease the burden, ask your advisor to lead the family wealth briefing on your behalf. Not only does this help support a more neutral and productive conversation, but having a professional part of the conversation offers an opportunity to bridge the financial literacy gap that exists between generations.
Establish family wealth guidelines 
As you grow your family's wealth, the need for rules or guardrails around it's control and management increases - especially when considering how to transfer your wealth. Putting guidelines in place and communicating them across generations helps ensure everyone is aligned on expectations and services as a compass for navigating issues or and important decision-making down the road. 
As noted above, working with your advisor to implement family wealth guidelines can help alleviate stress and ensure success. Key considerations your advisor will guide you through in developing these guidelines include: 
Roles: Who is in charge? Who is responsible for making financial and planning decisions? Who has the final say?  

Process: How are decisions made and communicated? Where are these decisions documented? What is the process for changing plans and communicating those changes?

Education: Are younger generations educated about wealth? If so, how, by who, and when? 

Planning: How are we prepared for future wealth needs and unforeseen issues? What partners do we work with to keep our wealth management plan on track? 

Transition: What steps do we have in place to transfer responsibility?  
Are you interested in establishing your own family wealth briefings or establishing your own family wealth guidelines? Our Entrust Wealth Partners team would be happy to assist. Simply reach out to your advisor to get started.