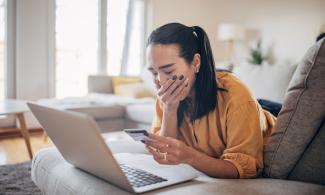 Why & How To Protect Yourself From Financial Scams
Ever hear about a financial scam and wonder "how did they not know?"
It's easy to think if we're ever presented with one that it'll be obvious and we'll immediately know to run the other way. But, based on our experience working with hundreds of clients, that isn't always the case. In fact, according to the FTC, consumers lost a staggering $8.8 billion to financial scams in 2022. And, that total is expected to rise in 2023.
As the number of financial scams increase and the sophistication of scam tactics advance, it can be difficult to protect yourself and your assets. We're committed to changing this for you and your family. To support this, we sat down with Matthew Fontaine, Supervisory Special Agent of the Federal Bureau of Investigation (FBI) to understand what steps you can take to protect yourself from financial scams. Check out highlights from our conversation, including Matt's top tips, below.
Why it's more important than ever to protect yourself from financial scams
Fraudsters are becoming much more effective in their ability to circumvent law enforcement and to demand higher dollar amounts from their victims. In fact, since 2020, the total dollar loss to complex crimes - such as email compromise, romance fraud, and corporate security breaches - more than doubled while the number of actual victims who reported losses dropped. And, unfortunately, estimates from the FBI expect that only 1 in 20 victims actually report their experience with fraud, which means the number of individuals impacted and the total loss amount could be much higher. 
Law enforcement agencies, including the FBI, are dedicating considerable resources to prevent future fraud incidents. The private sector has also gone to great lengths to educate employees and support staff. And, as your financial partners, we believe it's important for you to be educated and alert, too.
How to spot a financial scam
While there are a number of different financial scams currently in existence - and even more we'll see in the coming months - they all follow a few simple rules that seek to capture your attention and keep you engaged. Below are the warning signs to look out for to help you spot a financial scam:
Warning Sign #1: They make you feel fear
Whether it's fear of missing out on a romantic relationship, a lottery winning, an inheritance, or an investment opportunity, or even physical fear and threats, fraudsters seek to create a sense of fear in their victim. This is because fear makes us emotional - and, when we're emotional, our judgment is impaired making it more likely that we'll do or say something we'll later regret. This is the exact position the fraudsters want you in. 
Warning Sign #2: They require an immediate decision 
Once a fraudster has made you fearful, they'll often demand an immediate decision on something. This is deliberate and is meant to take advantage of your impaired judgment before you can change your mind.
Warning Sign #3: They try to isolate you
One of the most common signs of a scam is when the person on the other end of the line or on the other side of the screen tries to prevent you from consulting with someone else. They'll go to great lengths to keep you emotional and engaged and will very often threaten anyone who tries to interfere on your behalf. 
Warning Sign #4: They require payment via untraceable means
In addition to requiring an immediate decision, fraudsters often request immediate payment and via untraceable means. This could be through wire transfer, the purchase of gift cards, or some other means. If you're asked to provide payment via any of these means, it's important to pause and consult a trusted advisor, such as a member of our Entrust Wealth Partners team, or other professional before continuing.  
Important Note: There is a safety check for wire transfers called a kill-chain procedure that can help you retrieve funds that were sent to a criminal instead of an intended recipient. If you suspect you've been a victim of fraud and have transferred funds via a wire transfer, please contact www.ic3.gov immediately. 
How to protect yourself from a financial scam
Understanding how to spot a financial scam is an important step. But, just as important are the things you can do to reduce your chances of being targeted for a financial scam. Below are helpful tips to protect you and your loved ones: 
Step #1: Safeguard your information
Social media has a way of getting us to share much more information with the public than we ever would face-to-face with someone you don't know (for example - birthdates, where you went to high school, the names and ages of your grandchildren). This is all information a fraudster can use against you in a financial scam attempt. As a result, it's important to safeguard your information, including what information you submit to websites and what details you post on social media.
It's also important to safeguard your financial information, including bank statements, digital statements, and access to your accounts. While this might seem obvious, over 90% of elder fraud is committed by someone close to the victim who they've come to trust. Remember: If someone doesn't need access to your accounts for a specific reason that you've authorized, please refrain from giving them your details. 
Step #2: Maintain a basic understanding of financial transactions
One of the ways fraudsters take advantage of victims is by making them feel emotional, vulnerable, and confused. They'll often play the role of expert and encourage you to trust them. To help protect yourself and your loved ones from financial scams, it's important to maintain a basic understanding of financial transactions. You don't need to become an expert in cryptocurrency, but the person you're talking to should be able to explain the situation in terms you understand. If what they're proposing does seem reasonable, it's still important to get a second opinion - from another family member, friend, or your Entrust Wealth Partners Advisor - before you give anyone access to your financial information or accounts.
Step #3: Consider putting a freeze on your credit
First, order your credit report from Equifax, Experian, and Transunion to review it for inconsistencies. Second, request a credit freeze, which will prevent someone from using your information that is floating around on the internet to open lines of credit, etc. You can do this directly on the Equifax, Experian, and Transunion websites. Please note that a credit freeze is NOT the same as products such as "LifeLock," "CreditLock" or "Identity Guard." You specifically want to request a credit freeze, which is free, can be accessed from any of the credit report agency websites, and can be reversed by you at any time. 
What to do if you believe you've been exposed to a financial scam
Despite your best efforts, it is possible that you or someone you love may fall victim to a financial scam. Should you find yourself in that position, follow the steps below to break contact with the fraudster, secure your assets, and report the incident:  
First, hang up the phone (or, end whatever means of contact you have from the fraudster). You don't want to risk allowing the fraudsters to get you into an emotional state, which increases your risk of falling victim to their scam. Additionally, Artificial Intelligence is becoming so sophisticated that fraudsters could take your voice and splice it together to use to victimize someone close to you. 

Contact your local law enforcement

Report it at

www.ic3.gov

If necessary, contact your local Adult Protective Services agency, seek a restraining order, and/or seek legal counsel
Final Thoughts
We so strongly believe in the importance of this topic that we want to make it accessible to everyone - please be sure to share with your family members, friends, and colleagues. We also want to stress that our Entrust Wealth Partners team is here for you and can help serve as a second opinion at any time. As Matt mentioned during the webinar, one of the primary goals of a fraudster is to isolate the victim - we want to encourage you to reach out to us at any time should you have questions about the legitimacy of an offer or transaction.
Content in this material is for general information only and not intended to provide specific advice or recommendations for any individual.
This information is not intended to be a substitute for individualized legal advice. Please consult your legal advisor regarding your specific situation.
Entrust Wealth Partners and LPL Financial do not provide legal advice or services.