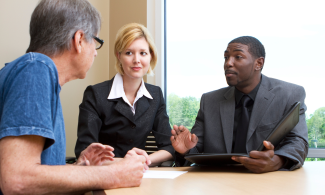 Why Long-term Care Planning Is More Important Than Ever
Often overlooked, long-term care planning is a crucial component of retirement income planning. Most people don't want to contemplate losing their ability to live independently. But, the financial impact of long-term care can be devastating. And, given the rising costs of long-term care and the emergence of new illnesses, planning for the future has never been more important. 
Let's look at the importance of long-term care planning and discuss the best options to protect you and your family:
Why Is Long-Term Care Crucial in Today's Economic Climate? 
According to the Centers for Medicare and Medicaid Services, the United States healthcare spending grew 9.7% in 2020, reaching $4.1 trillion or $12,530 per person annually. It should be no surprise that we spend more money on healthcare expenses as we age. While younger age groups typically spend more on health insurance and medications, older individuals spend more on health insurance and medical services - which is where long-term care comes in. Long-term care planning covers the costs associated with physical, mental, social, and medical needs if you experience physical and mental declines. 
Lack of knowledge and understanding is one reason many people don't make long-term care planning part of retirement planning. Most people think long-term care is covered by insurance, but most needs are not covered unless you have a specific long-term care plan. And, the probability of needing long-term care rises as we age. 
Moreover, long-term care can be expensive, and your future needs are unpredictable, so planning is crucial. Doing so also allows you to make critical medical decisions while you still can, taking the stress and responsibility off your family. Adequate planning can also ensure the sustainability of your retirement assets and preservation of your estate, securing your legacy and offering you invaluable peace of mind. 
What Do I Need to Know About Changes to Long-Term Care Planning?
Between the dramatic increases in the cost of care and inflation across broader household expenses, thinking about long-term care is more critical now than ever. Though governmental policy changes have increased the number of publicly funded programs available, there is still a gap between public programs and patient demand. There is also an ongoing shortage of direct care workers, nursing home availability, and long-term care providers, making it more challenging to access and afford the types of care you desire. Making sure your long-term care plans are part of your overall wealth management strategy is the best way to ensure your future care aligns with your wishes. 
What Are My Options for Long-Term Care? 
Long-term care is a blanket term that encompasses the various services required when you can no longer care for yourself. Therefore, what you may need for long-term care can be drastically different from another individual. Options include:
Aging in Place
Many people wish to remain in their own homes as they get older - this is called aging in place. Planning for aging in place can be challenging because it's difficult to predict how your needs might change over time. If you live with a spouse or other family member, aging in place can be  more manageable. If you live alone, you may need to invest in additional support and services, including personal care, household chores, meals, and healthcare. If aging in place is something you're interested in, the first step is to connect with local and state offices on aging, nearby senior centers, and your local Area Agency on Aging to help you understand what resources are available to you. From there, you can work with your Entrust Wealth Partners advisor to develop a financial plan that accounts for and supports your anticipated needs.
Assisted Living and Nursing Homes
People who require full-time assistance may need to consider assisted living or nursing homes. The costs involved with these types of facilities include room and board, personal care, medical services, housekeeping, and more. Assisted living facilities are a common option for those who need help with daily care but still maintain a certain level of independence. They typically offer several different options with varied expenses based on level of care and amenities.
 Nursing homes provide a broader range of health and personal care services. While assisted living residents typically live in their own apartments or rooms and share a common area, nursing homes offer 24-hour supervision and assistance with everyday activities. As such, nursing home costs tend to be much higher than assisted living costs. 
Adult Day Programs
Adult day programs are another long-term care option. They are often used to ensure you get the care you need while loved ones are at work or tending to other responsibilities. In general, adult day programs operate on regular business hours five days a week, with additional services available on evenings and weekends. Most adult daycare centers focus on medical care, social interaction, and Alzheimer's care and are affiliated with other agencies, including home care agencies, nursing facilities, and medical centers. 
Hospice Care
Hospice care focuses on quality of life for individuals experiencing advanced, life-threatening illnesses. It provides family support and compassionate care for individuals as they navigate the final stage of life. In general, hospice care is used for individuals expected to live six months or less. Due to the complexity of care, hospice costs can be extremely expensive depending on the level of care required and the setting in which you wish to receive it. 
How Can I Finance My Long-Term Care?
Long-term care can cost anywhere from $20,000 to $100,000 per year, depending on the type of care you need. Your Entrust Wealth Partners Advisor can help you understand the different options available to support your long-term care wishes, based on your unique needs and goals. These options include: 
Personal Savings 
If you're planning ahead for long-term care, start to set aside a portion of your savings to help. Paying for long-term care with personal savings is one of the most straightforward ways of financing, simply because there are no special requirements, limitations or premiums involved. This is especially true for those with pre-existing conditions who might not qualify for certain types of insurance or other financing options. But, while it's good to save as much as you can, it may not be possible to fund care with personal savings alone.
Government Programs
Government assistance for long-term care is available for certain populations. If you have limited income, a pre-existing condition, or a veteran status, you may be able to access benefits from one or more of these programs to assist with your long-term care expenses: 

Long-term Care Insurance
Another common option for financing long-term care is getting long-term care insurance. The exact coverage for this type of insurance depends on your policy, but there are options ranging from comprehensive - including home and hospice care - to more limited nursing home-only coverage. 
Just like other insurance policies, it's easier to acquire long-term care insurance at a reasonable premium when you're younger and have less risk of needing long-term care. If you're in poor health or are already receiving end-of-life care you may not qualify for this type of insurance.
You may also be able to access long-term care coverage with your life insurance policy. If you already have life insurance, check your policy for coverage details. If you're still shopping around for life insurance, ask about long-term care when considering your options. 
Learn More About Long-Term Care Planning with Entrust Wealth Partners 
Unfortunately, many people invest in long-term care insurance only to find out they can't maintain their coverage when they need it most. Incorporating long-term care planning into your wealth management plan now is the best way to secure your financial future and protect your assets. 
Entrust Wealth Partners is here to help you build a plan around your unique needs and wishes. For additional support in navigating your long-term care planning, please contact your advisor or reach out to us at (860) 838-3730 today! 
The opinions voiced in this material are for general information only and are not intended to provide specific advice or recommendations for any individual. To determine which strategies or investments may be suitable for you, consult the appropriate qualified professional prior to making a decision.