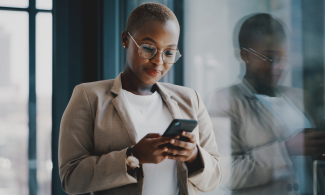 How Our EWP Client Portal Can Help Simplify Your Financial Life
There are many elements that make up your financial life. Trying to keep these different threads organized and manageable can get complicated. 
To help you keep your affairs in order, a valued qualified professional collaborative advisor and a wealth management plan are essential. It's also important to harness technology and tools that let you access and organize all of the information relating to your financial life, whenever you need to. 
This is where EWP Client Portal, a comprehensive platform that integrates seamlessly with our website, can help. Here we've put together a guide explaining what EWP Client Portal is, how it can help you, and how you can access it through the Entrust Wealth Partners website. 
What is EWP Client Portal?
EWP Client Portal is our web-based, comprehensive financial planning and account aggregation platform. It provides you with a client portal that is easy to use and mobile-optimized so you can use it on your phone and tablet as well as your computer. 
EWP Client Portal has been specifically designed to give you a single access point to securely view all of your important information. This includes your: 
Financial accounts

Tax and legal documents

Insurance coverages

Specific goals

Strategic plans
Having all of this information in one place is essential for staying organized and being ready to make the right business decisions when you need to. 
There are a few more ways in which EWP Client Portal can help you keep your finances organized. Let's go through them now. 
5 Ways EWP Client Portal Can Help You Simplify Your Finances
1. Improves Organization
By storing everything in a central location, you know where everything is. This makes it easier to stay organized. 
EWP Client Portal lets you link all of your accounts together in one place. This gives you better visibility of your entire financial situation and it makes it easier to work with your financial advisor to make the most of your situation. 
Information and products that you can link in EWP Client Portal include your: 
Investments

401(k) plans 

Company stock

Bank accounts

Credit cards 

Mortgages

Loans 
2. Eliminate Uncertainty
There are a number of market factors or personal circumstances that can crop up in life that impact your finances. These unforeseen circumstances can also be hard to plan for. To help, EWP Client Portal includes a feature that allows you to project future capabilities. 
Together with your Entrust Wealth Partners financial advisor, you can use EWP Client Portal to contemplate what-if scenarios like market swings, early retirement, etc., and see real-time visualizations that show how the decisions that you make today could impact your financial future. 
This way, you create a more confident financial plan going forward and make decisions that are informed. 
3. Budgeting Tools and Transaction Tracking
To make it easier to see all your transactions in one secure location, you can link your debit or credit cards, as well as your bank accounts, to EWP Client Portal. 
The platform also automatically categorizes your transactions based on the purchase type, so you can keep better track of where your money is going. 
EWP Client Portal also comes with tools that help you set monthly comprehensive budgets. You can track your spending against these budgets as you move through the month. You can then set up mobile alerts that let you know if you've exceeded certain limits. 
You can also choose whether you share and discuss this information with your advisor, or keep it private. 
4. Document Storage in the Vault
The Vault is an EWP Client Portal feature that provides a secure, searchable depository where you can store any information relating to your business, personal life, and finances.  
Any document you save in the vault is 100% secure. This is because the Vault system uses a 256-bit Secure Socket Layer to scramble the data, and its security is routinely tested by third-party security auditors. 
This means you can feel comfortable storing sensitive personal documents like passports, IDs, and social security numbers, as well as tax documents and legal documents like wills, contracts, and more. 
It also allows you to create different folders to store different categories of documents. This keeps everything organized and easy to access. You can then choose to share certain folders and not others. 
The Vault is mobile-friendly too, which makes it easy to securely access your documents wherever you are. 
5. Financial Reports
Your Entrust Wealth Partners team will regularly work with you to assess your financial plan and its progress. However, you can also access key reports on your own from your EWP Client Portal client portal. 
To create your own reports, you can input your income, expenses, and savings to predict future statements such as cash flow or balance sheets. All of this information will then be available to you in easy-to-view dashboards and visualizations. 
With just a few clicks, you can see whether you're on track to meet different goals, like saving for college fees, retirement, or whatever goal you have in mind. 
You can still always reach out to your Entrust Wealth Partners advisor to request reports or to go through the reports you've pulled in more detail.
How Can You Access EWP Client Portal?
EWP Client Portal is already integrated into our website and ready for you to use. Accessing it is easy, simply head to the EWP website, click on the "Resources" banner, and then click "Client Portal" in the main navigation. From there, you'll be asked to log in to get started. 
Conclusion 
The right financial advice is crucial for simplifying and getting the most out of your finances. Combining this personalized support with the right technology and tools, like EWP Client Portal, can enhance your experience even further.
The EWP Client Portal client portal is already integrated with the EWP website and is just a few clicks away. 
Our Entrust Wealth Partners team can help guide you through the EWP Client Portal client portal to ensure you're getting the most out of this useful tool. Contact your advisor or reach out to us at (860) 838-3730 to get started.
This material was created for educational and informational purposes only and is not intended as ERISA, tax, legal or investment advice.
If you are seeking investment advice specific to your needs, such advice services must be obtained on your own separate from this educational material. 
This material was prepared by Courtney Henry Consulting.