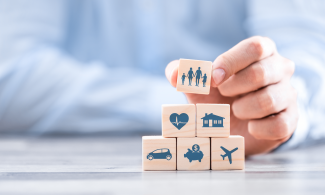 What is Wealth Management and Where Do I Start?
A solid wealth management plan allows you to set and reach your financial goals. However, it's about much more than just dollars and cents.  
Wealth management is about developing a plan that is aligned to your values and what you want to work toward in life. It keeps you in control of your wealth as you create a life and a future that works for you and your family.  
Our team at Entrust Wealth Partners can guide you through your wealth management journey. Below you'll find a primer to get started: 
What Is Wealth Management?
When people hear the words wealth management they often think of investment planning. While this does play a big role, wealth management goes beyond just your portfolio. Wealth management is the holistic, long-term planning and execution of strategies that help you reach your financial and life goals. 
Here are 5 elements that can be taken into account when thinking about wealth management: 
1. Risk Protection 
Risk is inherent in a number of financial transactions. This is especially true when you are looking to increase your wealth. You want to be putting in place measures to protect yourself from potential losses. 
Some basic risk protection measures that you could implement are life insurance, long-term care insurance, and disability insurance.
It's also important to look at your investments over time and plan them in a strategic way. This will allow you to adjust your exposure to risk according to the different life stages you experience and the different goals you have at that time. 
2. Asset Protection and Allocation 
As you meet your financial goals and grow your wealth, asset protection and allocation becomes necessary to shield you from risk and safeguard your assets. 
Asset allocation may involve spreading your wealth across different investments and assets. It could also have to do with legacy and estate planning. 
Using protection strategies like creditor protection or trusts is also a great way to secure your assets now and in the future. 
3. Business Succession and Monetization
For your business, which is often your legacy, to be successfully passed down through generations, it's important that your succession and exit plans are well thought out. 
Whether you plan to sell your business or pass it down to family members, you'll want to look into monetization strategies. These could include recapitalization, divestiture, or making your company public. One benefit of monetization is that it can free up some liquidity that is tied up in your assets. 
Successfully monetizing your business is a delicate process which can have risk and tax implications. To navigate this process, you'll need the help of a wealth management professional. 
It's actually a good idea to start planning with a wealth management advisor long before you see yourself leaving your business so that you can create strategies to meet your exit goals.
It's worth noting too, that you'll go through many different stages and changes in your life, so you could do regular reviews to see how you're doing against your goals. 
4. Tax Optimization

 
Most business and financial decisions bring tax implications, therefore tax planning is a crucial element of any solid wealth management plan. 
As your wealth grows, so will your taxes. To lessen the tax burden, you can organize your assets in a way that makes you less liable. This may be with retirement plans, different kinds of investments, charitable donations, or other financial solutions. 
Tax laws change constantly, so to keep up to date and to make the most of tax saving strategies you'll want the help of the right wealth management advisors.
5. Retirement and Future Goal Planning
Wealth management is a long game, and an essential element of this is planning for the future. This means you need to think ahead to your retirement years if you haven't already. 
Thinking about retirement will bring up different questions such as: 
How much will I need to live comfortably in my retirement years? 

What kind of needs am I likely to have? 

What kind of healthcare costs am I likely to face? 
Again, taxes will play an important role in your retirement savings and will need to be addressed in your wealth management plan. 
Your goals for the future may also include setting up trusts or planning philanthropic giving, which is also something you can work into your plans. 
Where Do I Start On My Wealth Management Journey?
With a number of different elements involved, getting started on a wealth management journey may seem daunting. But, with the right help, you can make great progress towards your goals. 
Before you get started, here are some good questions to ask yourself: 
What matters to me?

This will vary for everyone. It may be that your main aim is providing for your children and grandchildren. This could mean creating a family legacy and passing on shared values. It might also be that you're passionate about supporting charitable causes. 

Why are these things important to me?

Whatever it is that matters to you, you could sit down and analyze why. This will make it easier to create strategies that align with these goals. 

What is my biggest challenge around these goals or values?

Reflecting on what could keep you from obtaining your goals is an important step on the way to overcoming these challenges.

Who else do you want involved in this process?

You could think about what kind of team you want around you to help. This could include business associates, family, trusted advisors, or a combination of the three. 

What does success look like?

Defining your version of success will help you to shape your wealth management journey, get you started on the right foot, and allow you to reach success sooner. 
How Wealth Management Advice Can Support Your Goals
Your wealth management journey goes beyond your investments and must represent your values and what is right for you and your family. 
To meet your financial goals you'll also need the right plans and strategies in place to manage a wide range of factors.
Successful wealth management is hard to do without holistic, expert guidance. At Entrust Wealth Partners we use our expertise to help you formulate a plan that makes sense for you. We also take on the stressors of how to reach your goals, which frees you up to focus on what you enjoy about your work and life. 
Looking to start your wealth management journey today? Or want to review some aspects of your current plan? We are here to help. Just contact your advisor or reach out to us at (860) 838-3730 to learn more.
Content in this material is for general information only and not intended to provide specific advice or recommendations for any individual.
This information is not intended to be a substitute for individualized tax/legal advice. Please consult your tax/legal advisor regarding your specific situation. Entrust Wealth Partners and LPL Financial do not provide tax/legal advice or services.
This material was prepared by Courtney Henry Consulting.