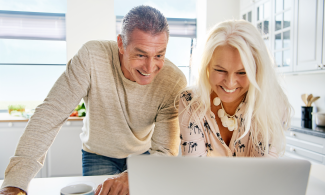 How Your Wealth Planning Needs Change as an Empty Nester
When all of your children fly the nest a new life phase begins. This can bring with it both mixed emotions and some challenges. However, it can be a time of real opportunity both in terms of your personal goals and your finances. 
If you're currently an empty-nester or you will be soon, you'll want to assess your new position from a few different angles. This means thinking about your ambitions for this phase of your life, and the phases to come, and planning accordingly. 
Here we'll go through some key tips regarding your wealth management plan as an empty nester. 
4 Key Wealth Tips for Empty Nesters
Moving from a household full of kids to one with just you and your spouse is a big change. The following four tips can help you move through it more successfully:
1. Look at changes to your budget
2. Revise your savings and investment strategy
3. Assess your insurance needs 
4. Think about what's next for you 
Look at Changes to Your Budget
Once you no longer have your children living at home you'll be cooking smaller meals, doing fewer loads of laundry and there'll be fewer lights turned on at home. So, your utility, food bills, and even subscription and streaming costs will go down.
However, you may also find that other areas of your budget increase as you continue to support your children from afar with things like travel expenses to come home for the holidays, and other ad hoc expenses.  
As there will be fluctuations to your outgoings when your kids leave home, you'll need to analyze exactly what these are, see where costs are being offset, and how you can put some extra money aside. 
You can also adjust existing services and subscriptions to plans that more accurately suit your empty nest status. Once you are aware of where your money is going, you can then create a budget that more accurately reflects your current lifestyle. 
Revise Your Savings and Investment Strategy
As we've seen, you may have some extra cash when your kids leave home to go to college or move out on their own. If this is the case for you, think about a meaningful way to use those funds. This could be for a business venture, charitable donations, future travel, or some other kind of project that requires funds.  
You should review how you are tracking toward your retirement goals and whether you need to put those funds toward retirement. It might also be that you need to put more funds aside for healthcare costs. 
The departure of your kids from you also presents a good time for you to review your will and overall estate plan to see if these need adjusting. 
Sitting down with your advisor to review your savings and investment strategy will allow you to detect any areas for opportunity and then put a solid plan in place. 
Assess Your Insurance Needs
You should always be on top of your insurance needs but when your kids all fly the nest, it makes even more sense. At the top of this list of priorities should be life insurance. If you don't already have life insurance you'll need to look into it now. 
This kind of insurance is essential as you age and head toward retirement as it offers your spouse or family protection in the case of your unexpected passing. If you already have life insurance it's still a good idea to review your policy to check your beneficiaries and make sure your policy works for you and your family.  
You should also review your home insurance policy as the cost of your home and the amount of valuable items in your home may have grown over the years. Your health insurance may also need adjusting to make sure that they are aligned with your needs at this moment and will cover you through retirement. 
Think About What's Next for You
Seeing all of your children leave the family home is a big milestone that can bring up a lot of different emotions. It's also an exciting time when you can make decisions based on what you want for yourself, rather than just what your kids want or need. 
If you're in this position, you're likely in the final stretch of work before retirement. While you're still in these accumulation years, it's good to think about what it is you want to focus your attention and resources on.
You may find yourself with more time to fill now that you no longer have your children at home. This can give you the space to dive into a personal project you've been thinking about for years, to get more involved within your community, discover a new hobby, or anything else.
Assessing whether you're in the right home might also come into the equation. You could be left with more bedrooms and space than you now need and you want to downsize. It could also be that you want to move to a different city or country now that your children have moved out. 
Final Thoughts 
The empty nest life phase signifies many changes from the emotional to the financial. It's important to acknowledge this life change, take stock, and move forward with a clear plan of how you want to get the most out of this time. 
Our Entrust Wealth Partners team can help you transition to and navigate these years and adjust your wealth management plan accordingly. Contact your advisor or reach out to us at (860) 838-3730 for more assistance.